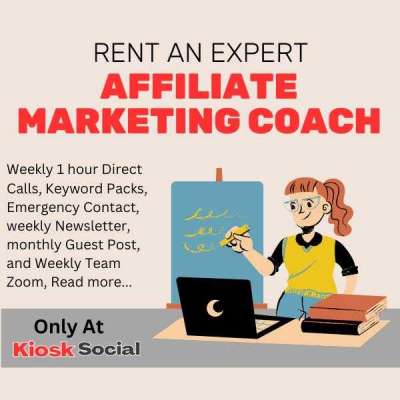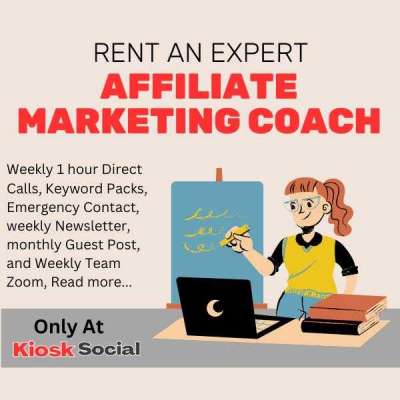 Rent a Expert Affiliate Marketer 1 Month Term
$249.00 (USD)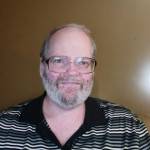 Location

Online Via Zoom, Skype, or by Phone

Status

In stock

Type

New
---
Rent A Coach Affiliate Marketing Support SystemLimited to 30 Clients

Package Includes
4X 1 Hour weekly 1 on 1 Zoom Session, ask the expert anything. $75 Value x 4 $300 total.

15 weekly Keywords Research Pack, showing hot button Make Money Niche search terms. $49 Value

Weekly Team Zoom Call $67 Value Includes weekly Task List and Public Q&A.

Weekly Up Scale Newsletter $24 Value.

This month's Syndicated Guest Post Article. The author charges $0.15 a word for guest posts content and post guaranteed minimum 1,000 words. $150 Value

Pro Membership In Cash Legion Club a $19 monthly value.


The total value of the offer is $609 if items are purchased separately. Your price through Kiosk Social is $249 a month a savings of $360 a month.


About the Expert:

Andy Anderson has been a professional blogger, social community builder, and affiliate marketing expert since January 4th 2004, and has been instrumental in building a blog with over 1.4 million monthly page views and a social network totaling more than 3.4 million monthly page views. Traffic generation and leveraging other people's content have helped build a strong business.

Andy had a nervous breakdown 10 years ago and walked away from his business which included Kooiii Social Media Search and MyViral Blog at the time as well as a network of over a half dozen other smaller sites. He is faced with the challenges of Social Anxiety Disorder and Bipolar Depression and has been on a climb back to the life built with marketing skills.

I am the current owner-developer of Kiosk Social, Co-Admin of Social-Pub and MAP-TE, Own Mailer On Fire, and 4Freete.com, and will be launching CashLegion.club in September 2023. Kiosk Social Alone generated 56,000 unique visits in August 2023, and factors in the training of the Cash Legion program and is designed to spit out a steady stream of $120 commissions on a 3-tier affiliate program. To wrap all this up My Income Legion blog and weekly newsletter are available as well though there is never a charge for the content on that site.

This coaching program gives you 100% of my attention based on your personal needs as a marketer and is good for marketers at all levels and best when paired with the structured training of Wealthy Affiliate. Our weekly calls can take place by phone, Skype, or Zoom and you will have my phone number if emergency help is needed, something next to no consultants offer.

I keep my client list small and tight. I will have a maximum of 30 first come first served spots on my calendar and we hold a weekly team Zoom Call with Q&A afterward that will last 90-120 minutes every Monday evening at 7 PM Pacific Time USA.

I live in Roll Arizona USA and have a busy schedule leading my business as well as coaching so sadly not all countries will find an equitable time available. I will as we grow be looking to scale up and contract with Exxoperts in other parts of the globe in multiple languages but currently time spots are between 10 AM and 9 PM Pacific Time Monday-Saturday and all work is in English Language.

Marketers who live in different time zones and offer multiple language support who would like to join this service should direct message @AdminAndy here on Kiosk Social. We currently offer partners with a minimum 10 years of experience 70% of the contract profits in the care. We do not tolerate missed appointments and you can over-deliver on our promise but never under-serve.